Heart disease is the #1 killer of women in America, causing one of every three deaths- that's more lives than all types of cancer combined! In fact, more women than men have died from heart disease in the past 30 years.
Often as women, we worry about cardiovascular disease in our fathers and husbands and urge them to be more heart healthy, but we forget that heart disease is not gender specific and that it is important for us to be heart healthy too! Today is National Wear Red Day to help raise awareness with women to take steps in their lives! Choose to speak up and fight the statistics by supporting the American Heart Associations's Go Red for Women Movement. Visit the
Go Red for Women Campaign's
website for tips on how you can help yourself and others prevent heart disease.
We at Pig and Peacock support the Go Red's campaign and strive to live heart healthy lives-we hope in 2014 you will too! We created the
Go Red Awareness Ribbon soap
as a way to help raise awareness of this often silent killer and donate 50% of it's sales to Go Red for Women.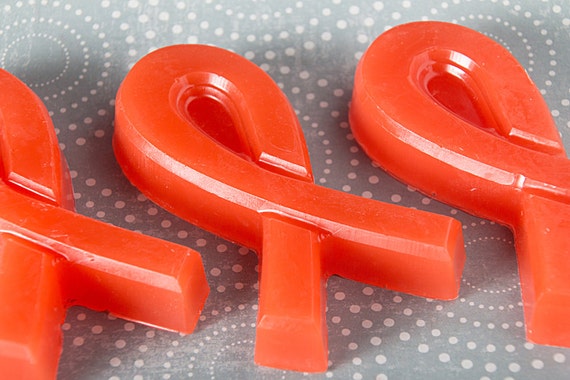 Taking steps to improve your heart health can be simple and easy.
Get moving-as little as 20 min of walking a day can help, and 40 min a day is even better
Reduce stress-did you know as little as 20 min of walking a day can help reduce your stress levels too? :)
Eat healthy-replace one snack a day with a piece of fruit
Quit smoking-ok, ok, so this one isn't simple or easy necessarily, but it will significantly reduce your risk for heart disease!